Lyradanz naît en 2014 de la rencontre de trois musiciens déjà actifs sur la scène celtique et trad. Partageant la même passion pour la musique folk, ils font le pari de proposer une formation avec des instruments inhabituels dans le répertoire folk tout en présentant des compositions personnelles, dans la perspective d'une fusion entre tradition et innovation associée à une expérimentation sur l'alliance des timbres.
Une harpe énergique et enjouée, méditerranéenne dans l'âme; un psaltérion à archet exploitant toutes ses potentialités sonores et techniques, loin de son image connotée d'instrument ancien; une guitare avec une grande variété de couleurs musicales, allant de la rumba au flamenco en passant par le swing manouche et le jazz; trois voix qui s'entrelacent dans des polyphonies raffinées.
Le groupe s'est produit dans plusieurs festivals et rencontres internationales, ainsi que dans des concerts prestigieux en Italie et en Europe (France, Belgique, Pays-Bas, Allemagne, Suisse, Irlande) en tant que groupe représentatif de la scène folk actuelle et réinventant les traditions musicales italienne et française à travers des compositions au style novateur et audacieux.
Lyradanz enregistre un premier album en 2015, "Un giorno un ballo" , album-concept avec une mélodie pour chaque moment de la journée, puis un second en 2018, "Una notte in ballo", sur lequel ont été conviés des artistes issus de la scène folk internationale.
LyraDanz est:
Adriano Sangineto: harpe celtique, voix
Caterina Sangineto: voix, psaltérions à archet, flutes, bodhran
Jacopo Ventura: guitare, charango, voix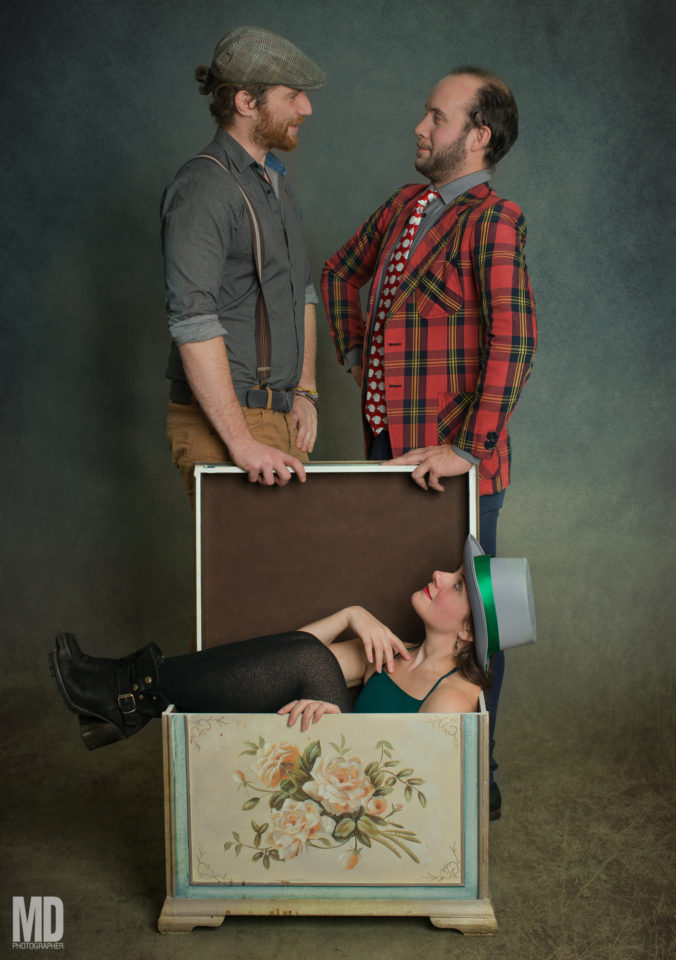 OUT ON SUMMER 2018
Amore e suspance, romanticismo e leggerezza in questa nuova produzione dei Lyradanz.

Ambientato nella Parigi anni '20, la trama parla dell'incontro tra lei, la ragazza sconosciuta, la protagonista, e un intreccio di frequentatori dei locali sulla Senna che ora dopo ora, storia dopo storia la conducono dentro un mondo naif e le rivelano una città fatta di emozioni e turbinii, giravolte e sospiri, fumose atmosfere manouche e ritals italiani, banlieue nord africane e eleganti fisarmoniche musette.

Magistralmente interpretato da un cast italo-francese (da oltralpe G. Jolivet, R. Maillet, T. Simonnin, O. Plantec e F. Huygebaert insieme ai nostrani L. Monguzzi, M. Cardullo e M. "La Montagna" Luraghi), la regia è del giovane trio "Lyradanz" e vede la preziosa collaborazione di G. Gioacchini agli effetti grafici e alle scenografie.

Una storia imperdibile e dalle atmosfere tenui ma decise, imperdibile per chi adora lasciare i propri sogni liberi di viaggiare in un mondo fantasioso e inventato – o no?
Lead voice, Whistles, Psaltery: Caterina Sangineto
Harp, Clarinet, Voice: Adriano Sangineto
Guitar, Voice: Jacopo Ventura
Bass Guitar: M. Luraghi
Voice in "L'Ora delle Ombre": L. Monguzzi
Pipe in "Un Sonnambulo in Discoteca": M. Cardullo
Hurdy Gurdy in "L'Ora delle Ombre": G. Jolivet
Chromatic accordeon in "I Tram di Milano": T. Simonnin
Violin in "Gerry Scottish": R. Maillet
Percussion in "Un sonnambulo in Discoteca" e "Gerry Scottish": F. Huygebaert
Bombard in "Radiosveglia": O. Plantec
Recording and Editing: M. Cardullo @ Crono sound factory – Vimodrone (MI)
Mixing and Mastering: Erwin Libbrecht @ Alea Studio, Ghent (B)
Graphic design and realization: G. Gioacchini

…"Un giorno in ballo" is the musical trasposition of every single daily event: every hour is a dance, every minute a step, every second a different feeling…
Update Required
To play the media you will need to either update your browser to a recent version or update your
Flash plugin
.
Mixed and Mastered by Erwin Libbrecht @ Alea Studio, Ghent (www.alea-studio.be)
Graphic design by Giulia Gioacchini
Harps and Psaltery by Michele Sangineto.
Date
Ville
Salle
Pays
Tour: "Una Notte in Ballo"
21/04/19
Saint-Jean-du-Gard
Festival Boulegan à l'Ostal
France

Heure:

10:00am.

Admission:

All Ages.
23/06/19
Warsaw
TBA
Poland

Heure:

8:00pm.

Admission:

All Ages.
02/08/19 - 03/08/19
Serravalle di Chienti, Macerata
Montelago Celtic Festival (TBA)
Italy

Heure:

8:00pm.

Admission:

All Ages.
22/08/19 - 25/08/19
Gent
Boombal Festival 2019 (TBA)
Belgium

Heure:

8:00pm.

Admission:

All Ages.
04/10/19
Bonn
TBA
Germany

Heure:

8:30pm.

Admission:

All Ages.
05/10/19
Moha
TBA
Belgium

Heure:

8:30pm.

Admission:

All Ages.
06/10/19
Marburg
Folkclub
Germany

Heure:

3:30pm.

Admission:

All Ages.
09/10/19
Halle
TBA
Germany

Heure:

8:00pm.

Admission:

All Ages.
12/10/19
Leipzig
TBA
Germany

Heure:

8:00pm.

Admission:

All Ages.
Lyradanz + Blue Reed
Date
Ville
Salle
Pays
Tour: "Una Notte in Ballo"
16/11/19
Bern
TBA
Switzerland

Heure:

8:30pm.

Admission:

All Ages.